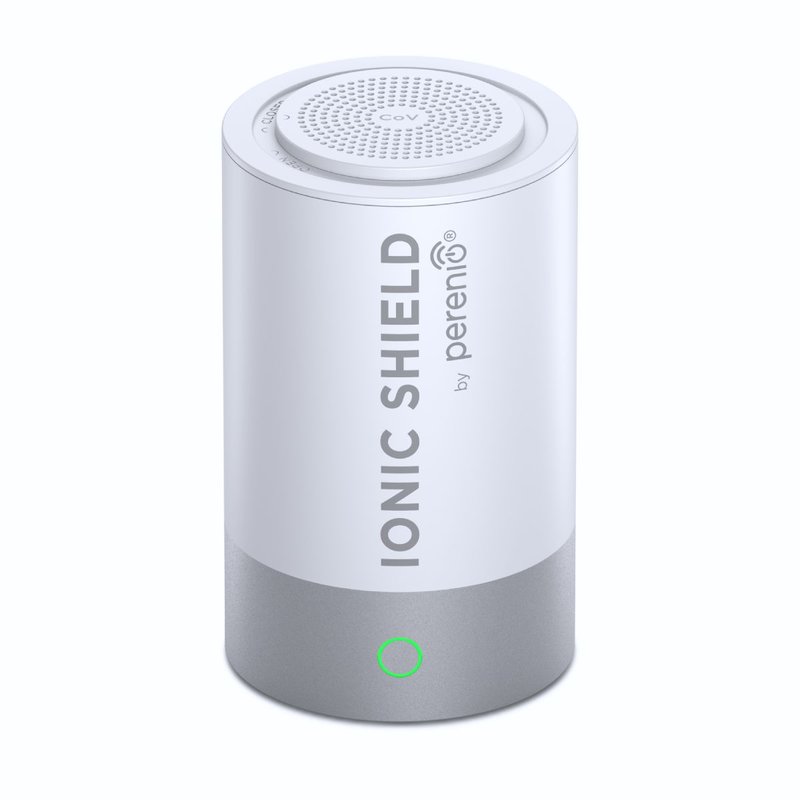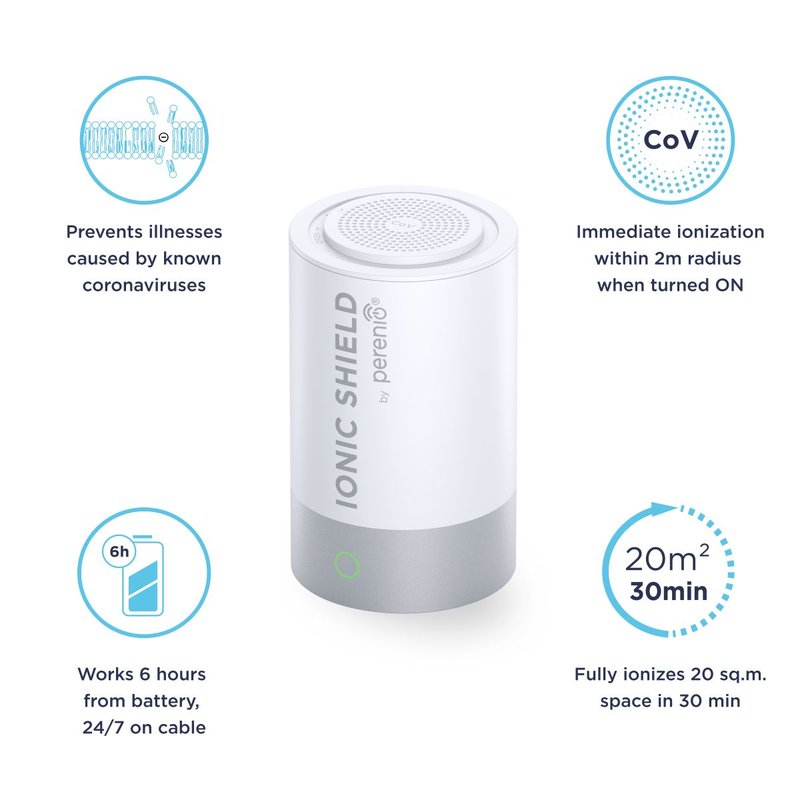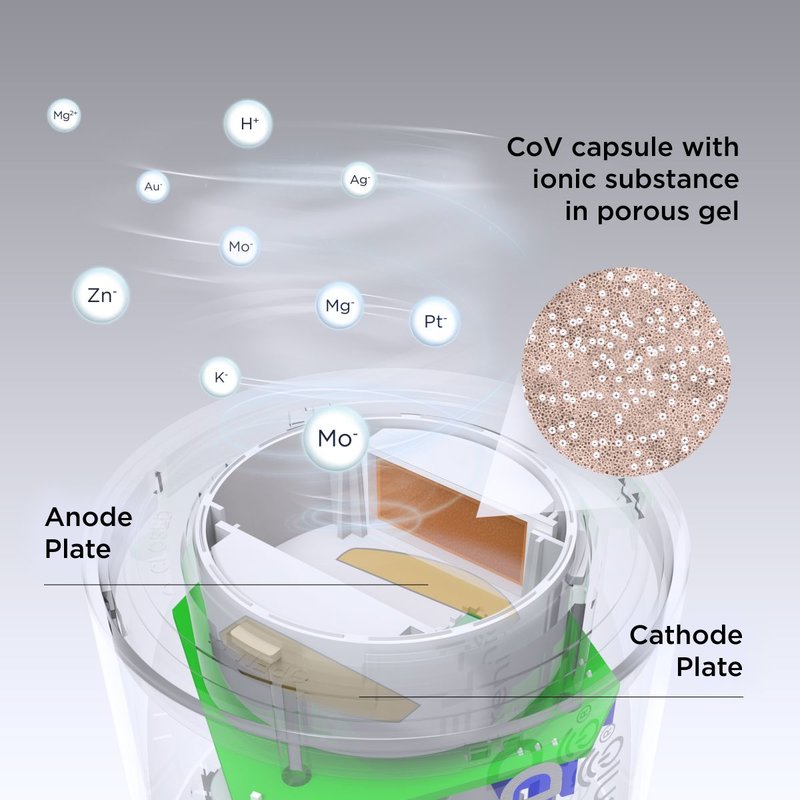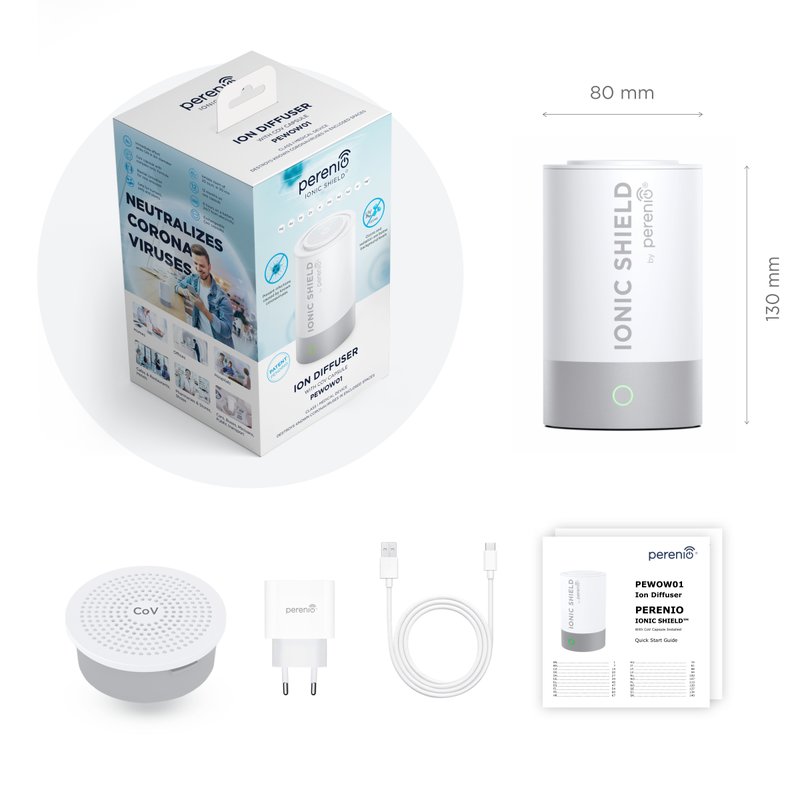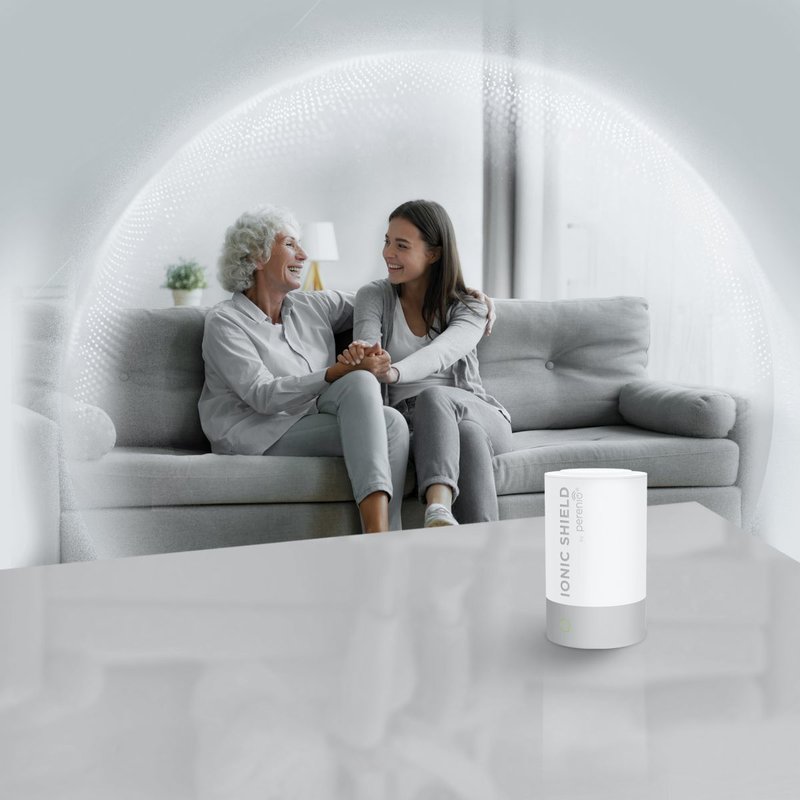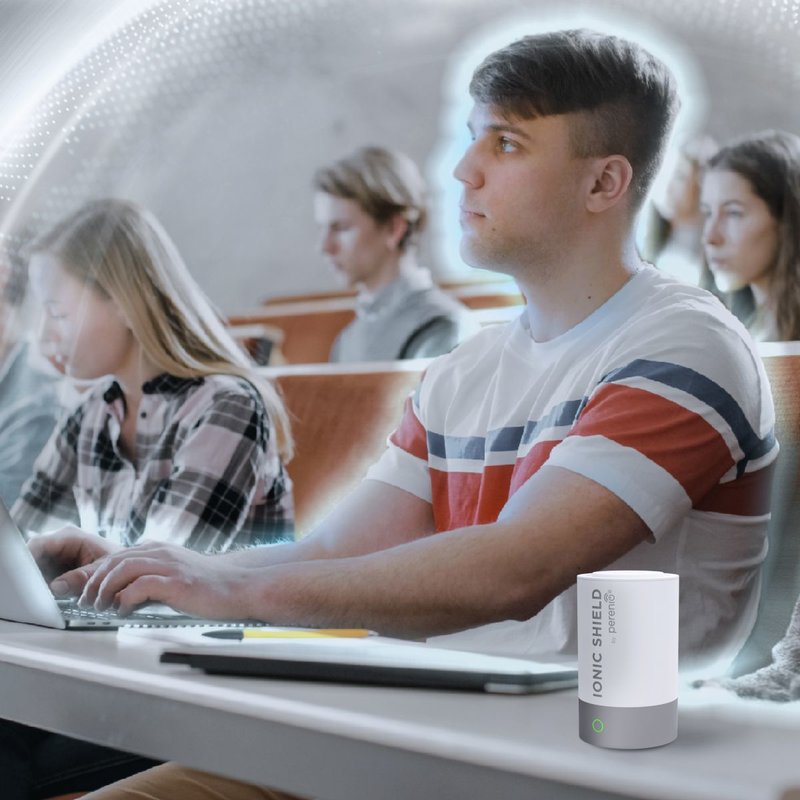 PERENIO IONIC SHIELD™ PEWOW01 Ion Diffuser with CoV Capsule
Protection from known coronaviruses

CoV capsule with ionic substance in porous gel

Non-invasive active medical device class I
See all features
Features
Instant ionization up to 2 meters around the device

Fully ionizes 20 sq.m. space in 30 minutes

Safe for human

CoV Capsule

Compact size. Diameter 80mm, height 130mm

Up to 6 hours work on battery

5V, 2A, 10 Watt only
PERENIO IONIC SHIELD™ PEWOW01
Ion diffuser with CoV capsule
For use by humans in closed spaces for prevention purposes against infections caused by known coronaviruses including
SARS-CoV-2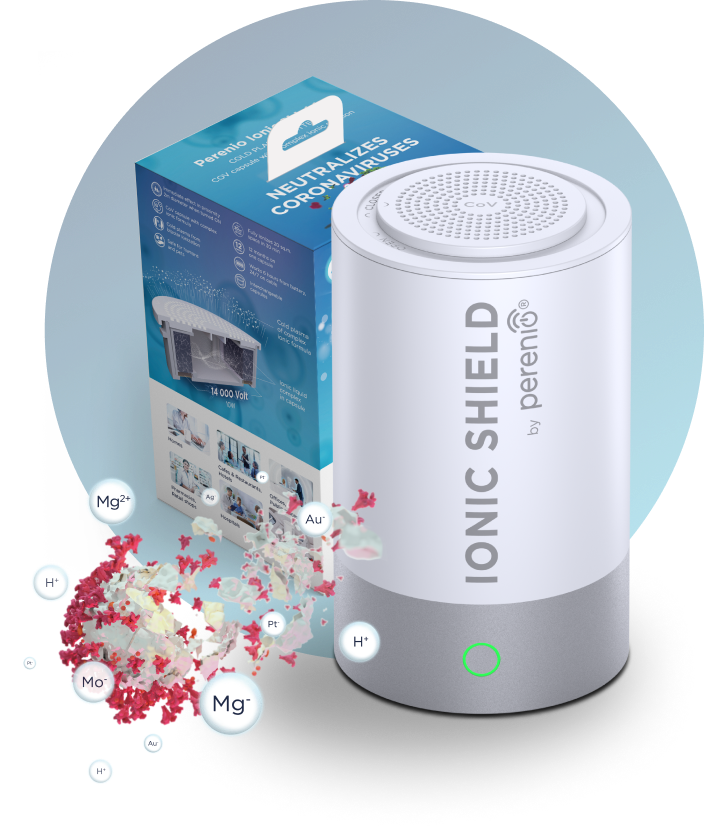 IONS AND HUMANS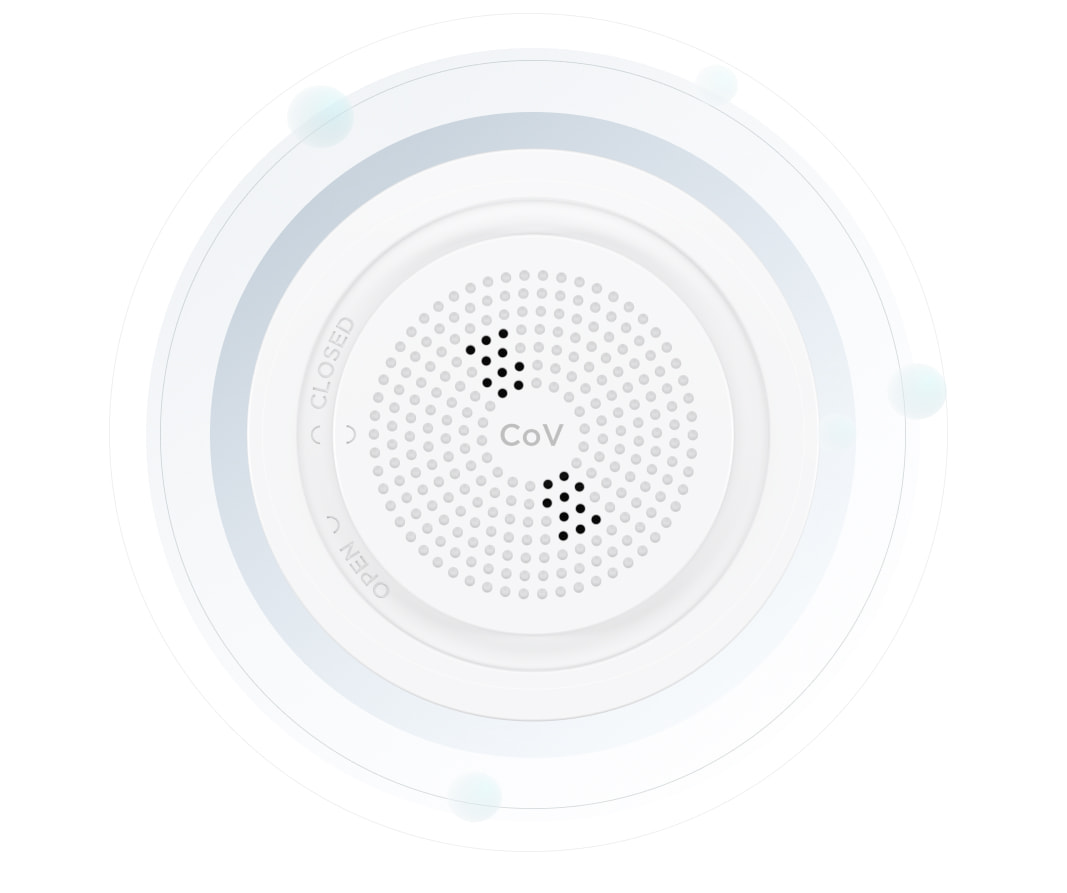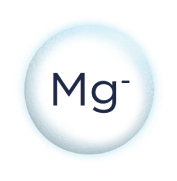 Magnesium ions are necessary for the synthesis and implementation of the functions of ATP (ATP is the main energy "coin" in the cell) and for over 600 enzymatic reactions.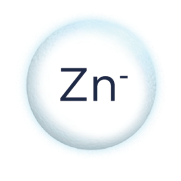 Zinc takes part in all types of metabolism, it is part of 7,200 enzymes, including those responsible for growth and division, and essential for the immune system.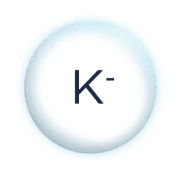 Potassium is the main intracellular ion for all types of cells while having a major role in the maintenance of fluid and electrolyte balance.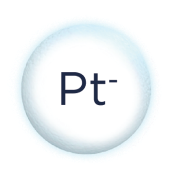 Platinum demonstrates high inhibitory and destructive activity against microbes and viruses.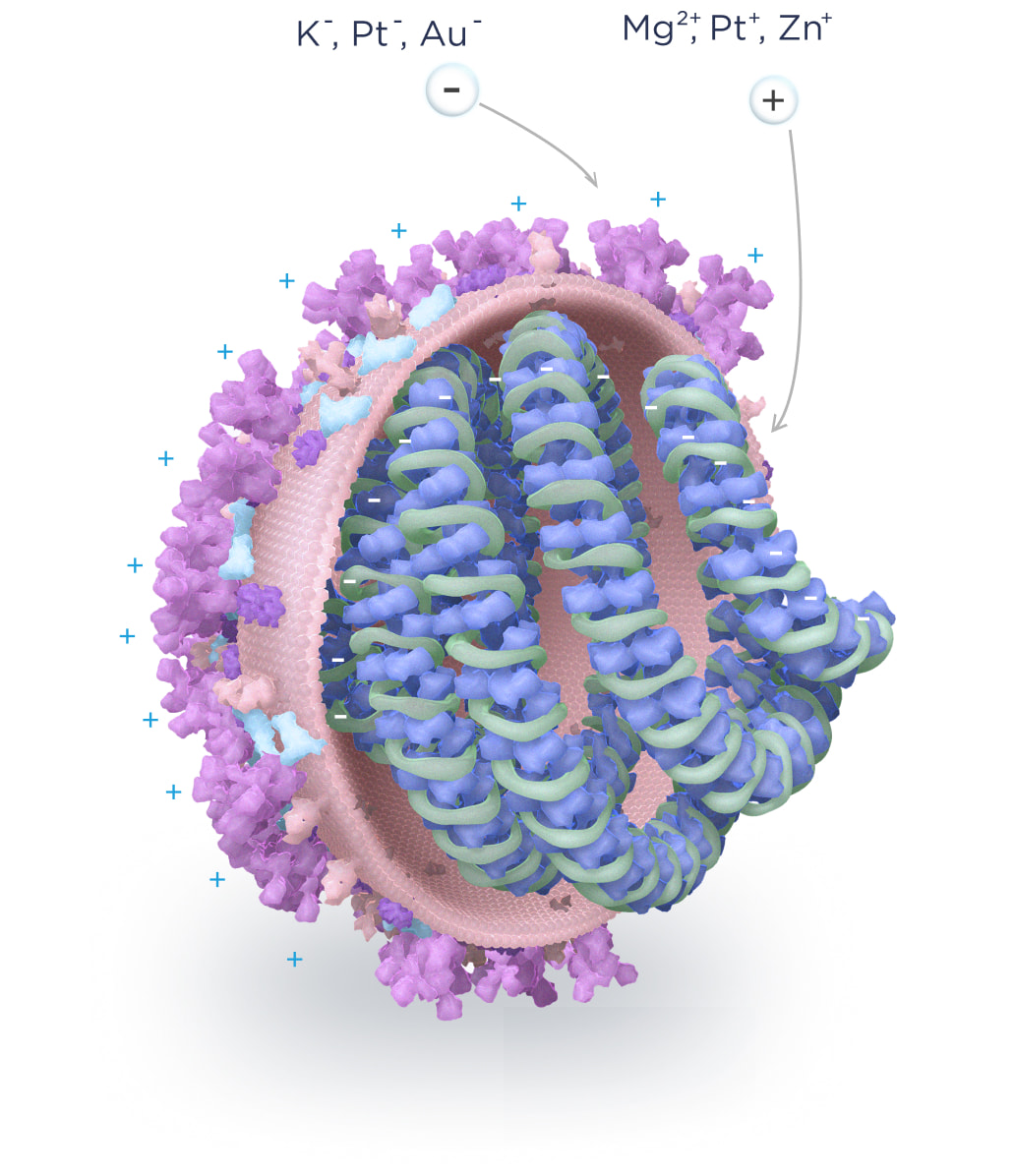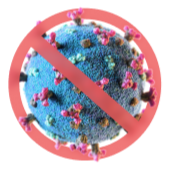 HOW DO IONS DESTROY THE VIRUS?
The emitted ions have high kinetic energy to destroy positively charged outer shell of the membrane of the known coronaviruses and negatively charged RNA of these viruses
BIPOLAR IONIZATION TECHNOLOGY
CoV capsule with two trays filled with ionic substance based on salts of Magnesium (Mg), Potassium (K), Gold (Au), Platinum (Pt), Zinc (Zn). The trays create anode and cathode
14kV (10W power only) is applied to the anode and cathode to emit ions of chosen chemical elements into the surrounding air to destroy the viruses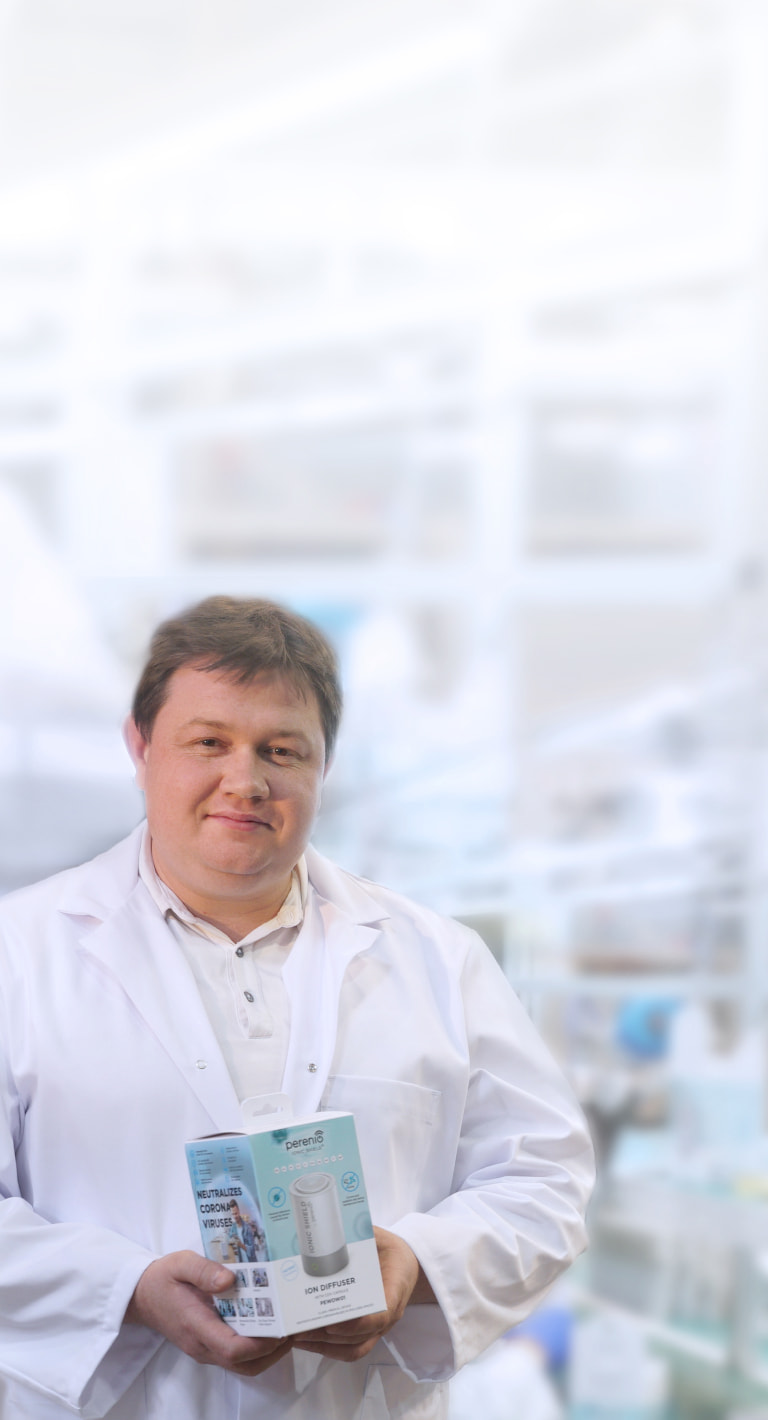 Efficiency and safety Proven by lab tests and clinical evaluations
Safe for humans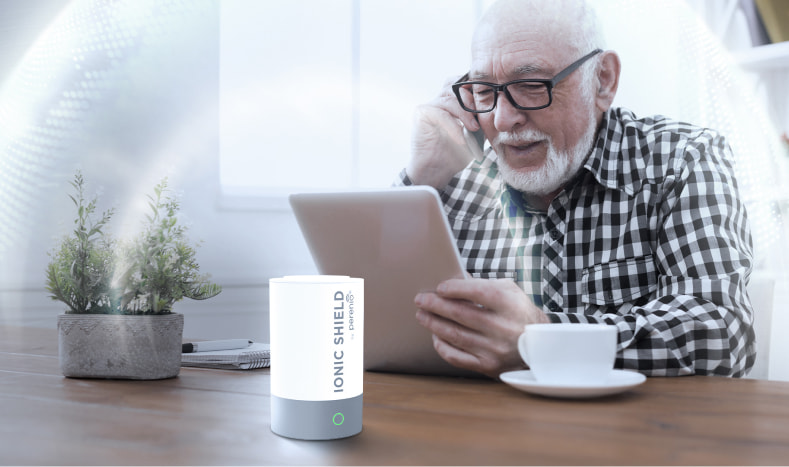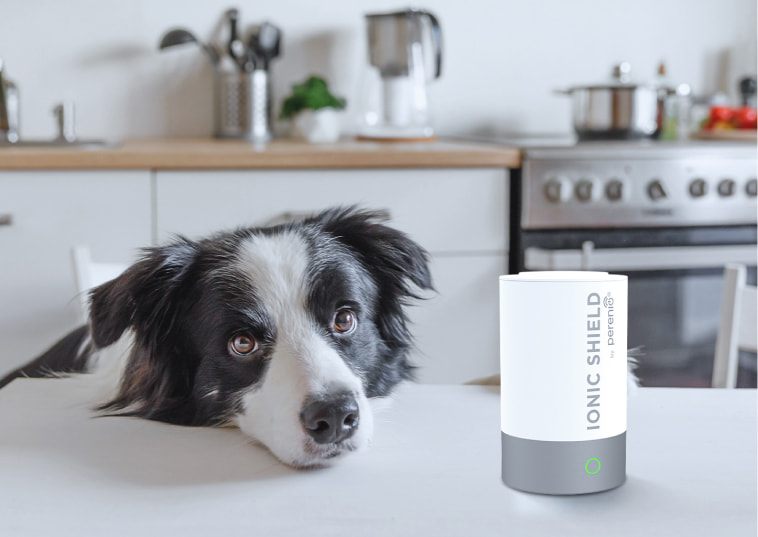 Attractive for pets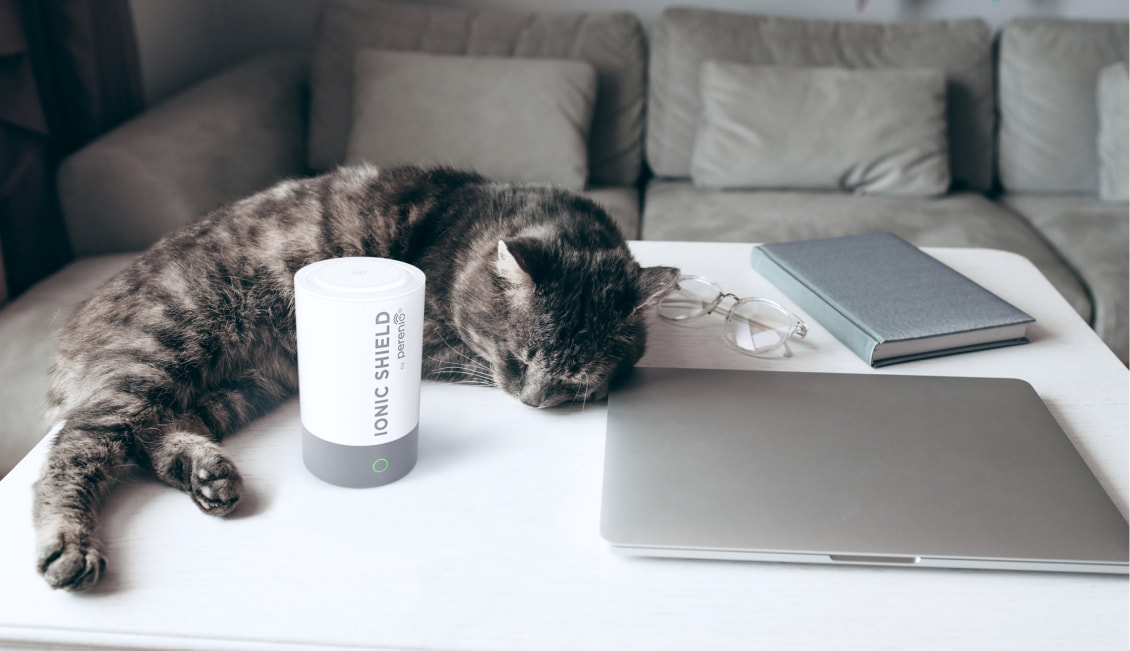 To cover large closed spaces
set up a net of PERENIO IONIC SHIELDs™ 3 meters from each other

Perenio Ionic Shield™ PEWOW01 protects you and your loved ones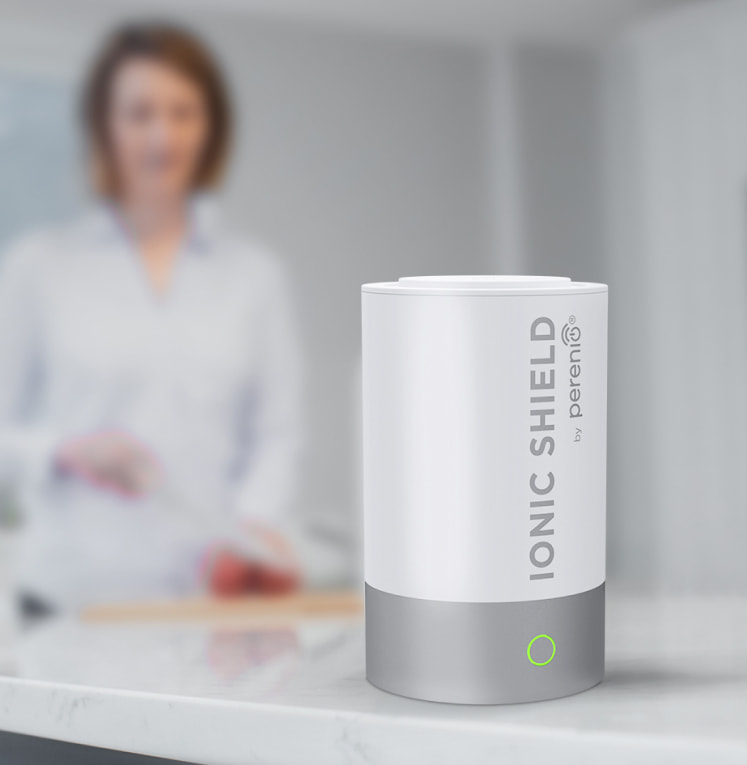 Your space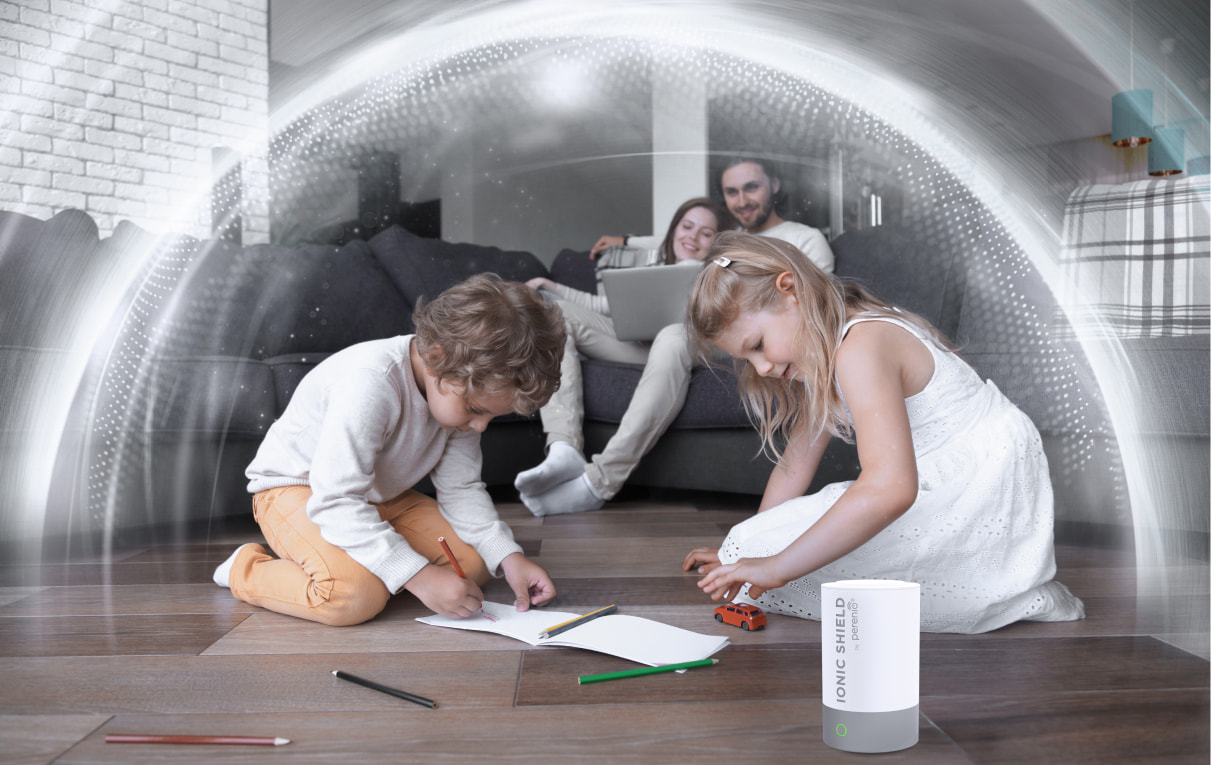 Your kids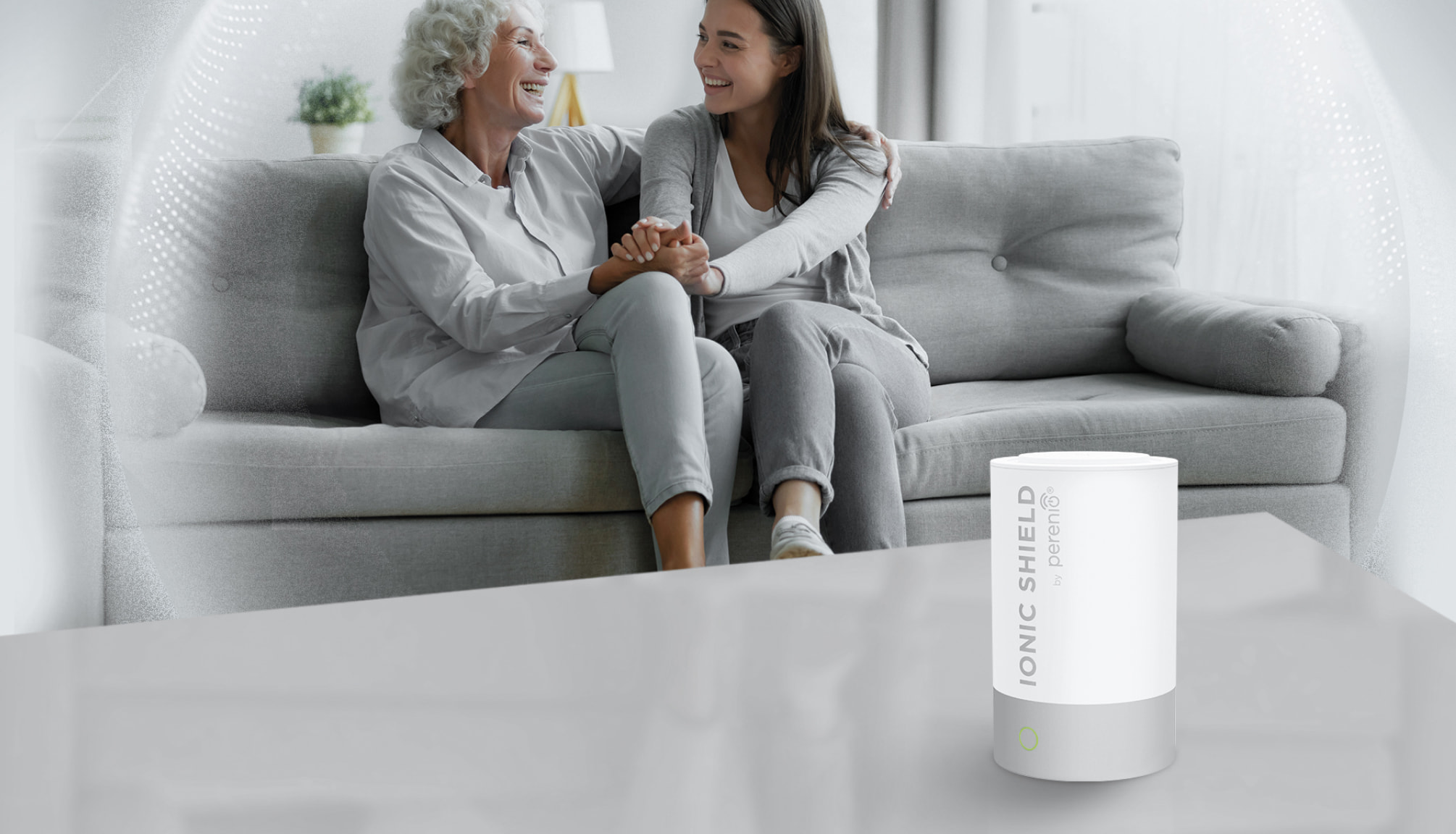 Your parents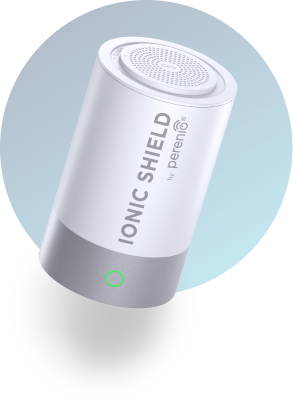 PERENIO IONIC SHIELD™
PEWOW01
€ 299.00
TAKE IT WITH YOU EVERYWHERE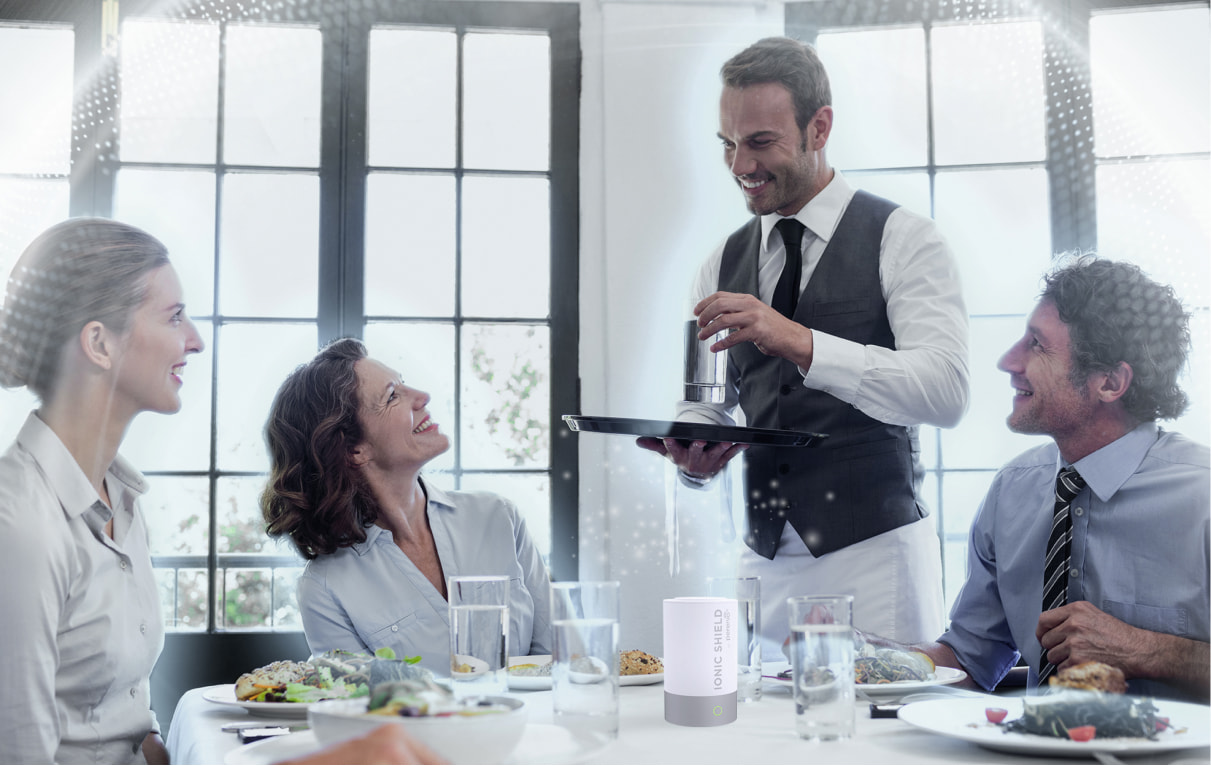 Restaurant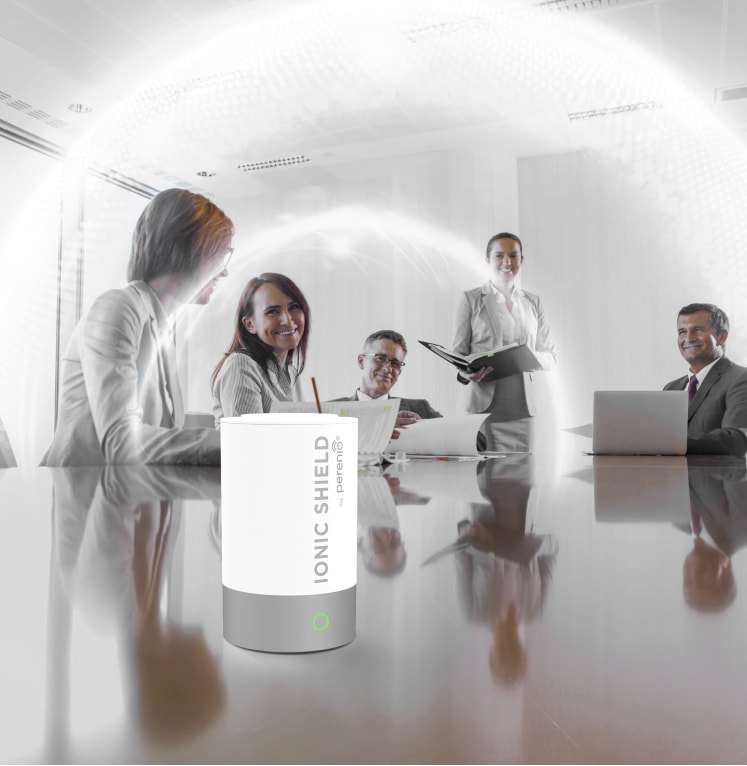 Office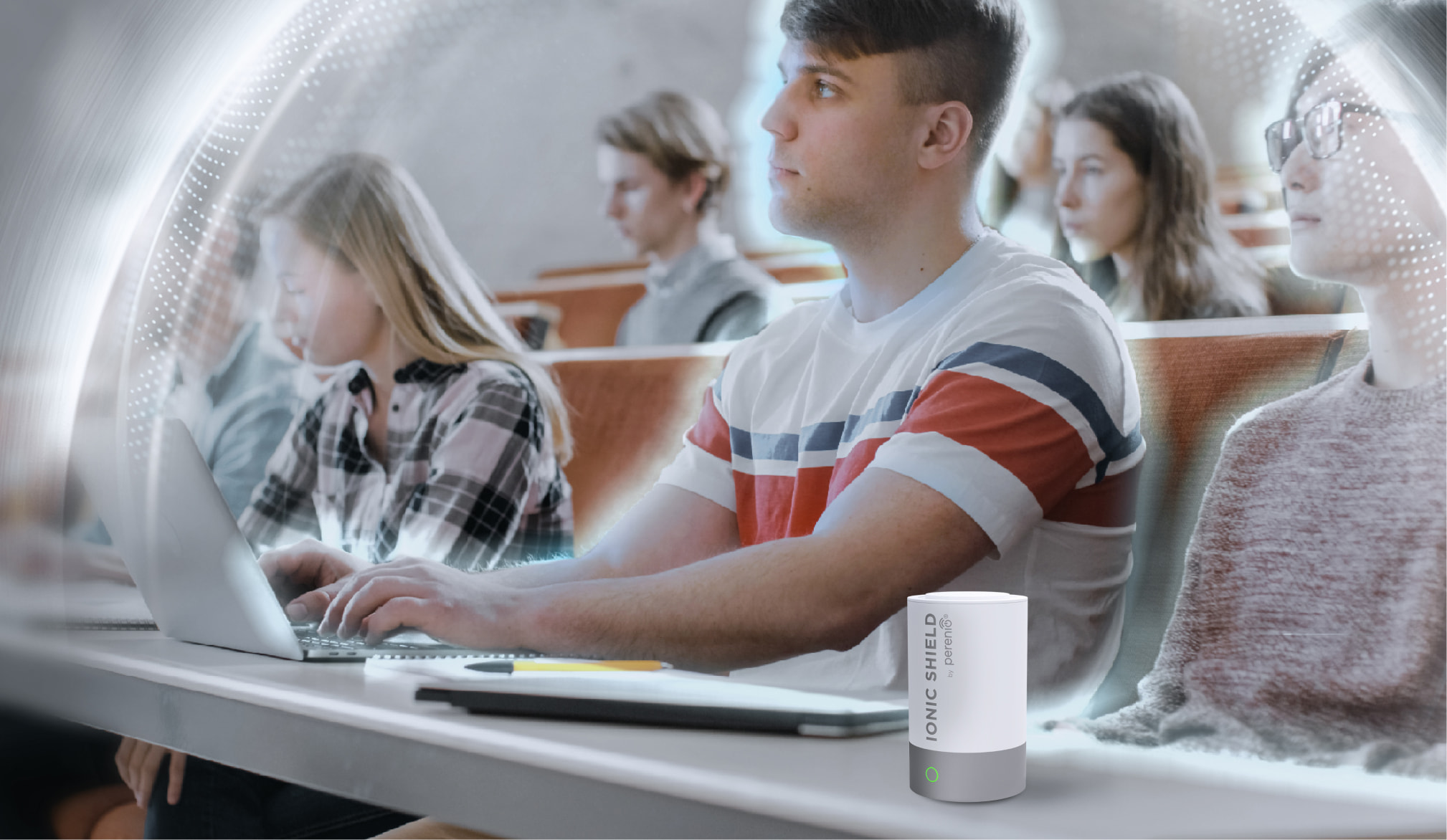 Classroom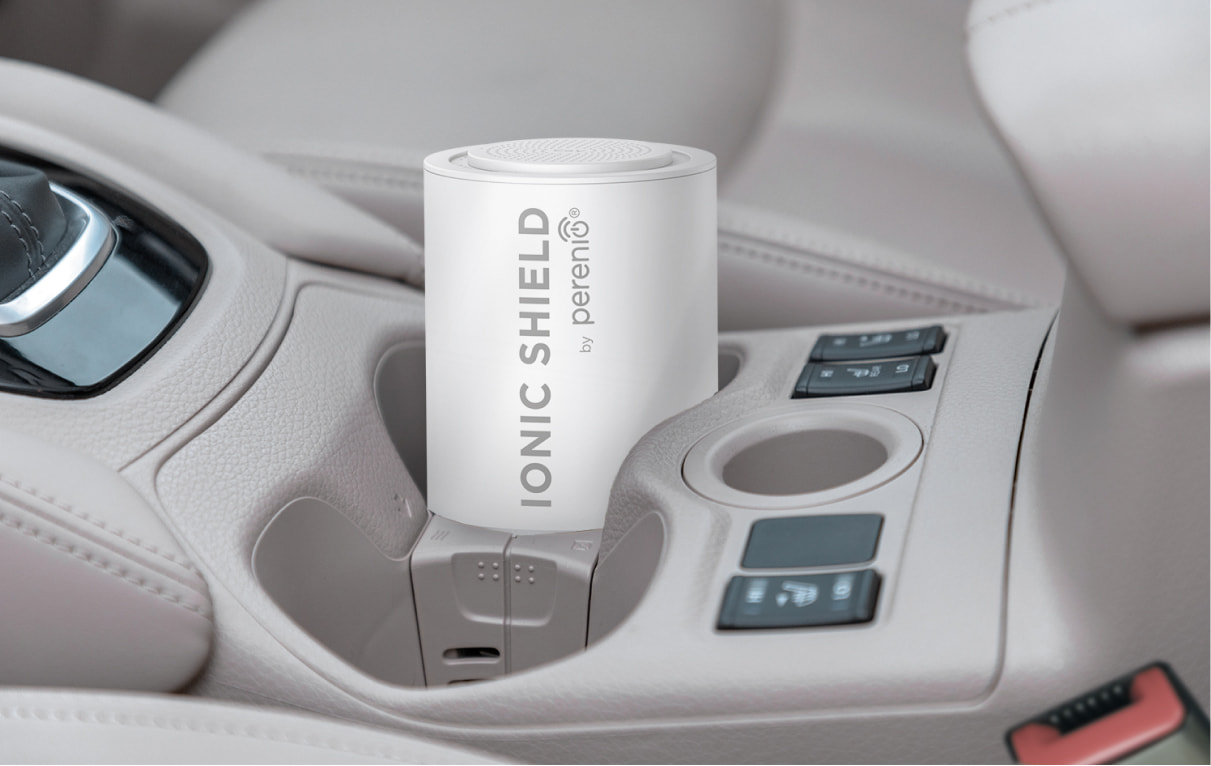 Car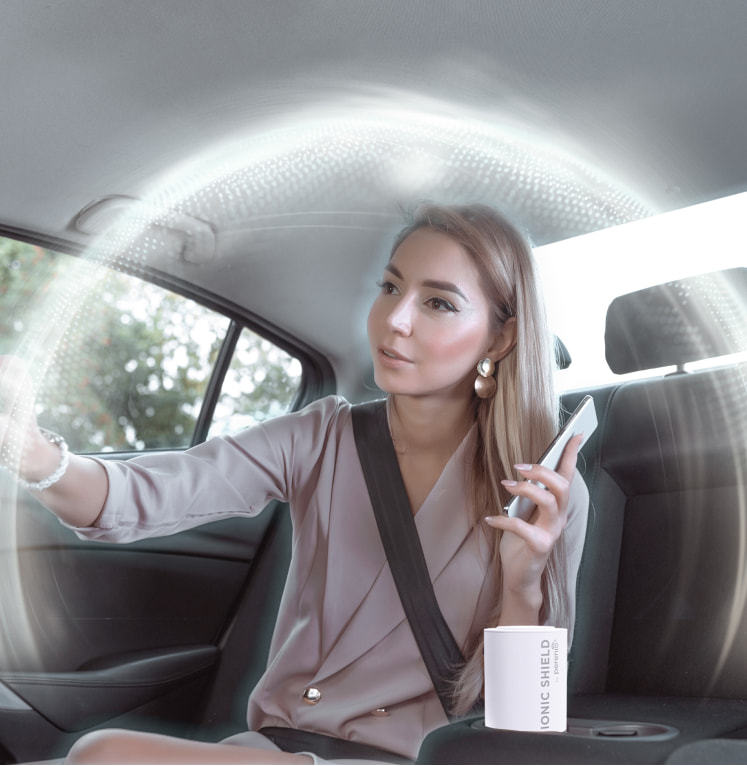 Taxi
What is in the box?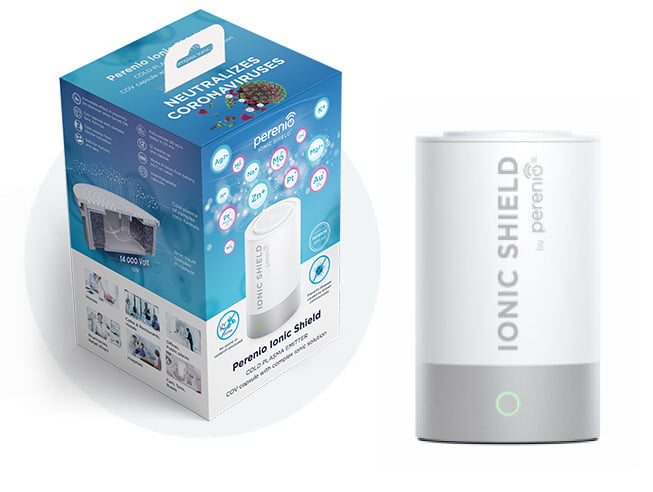 PERENIO IONIC SHIELD™ body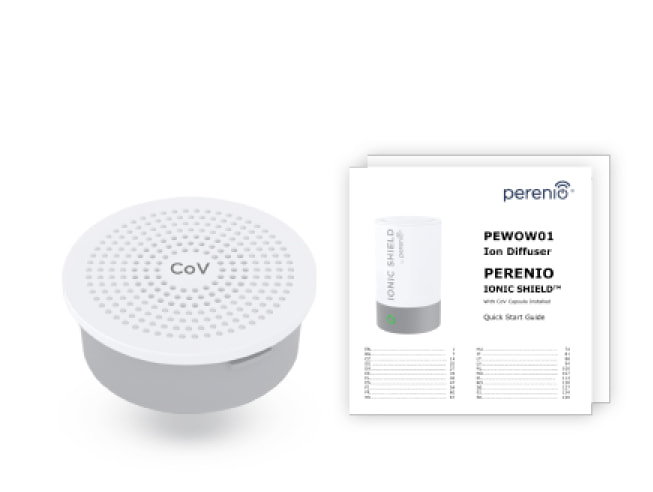 CoV capsule, Quick Start Guide and Warranty card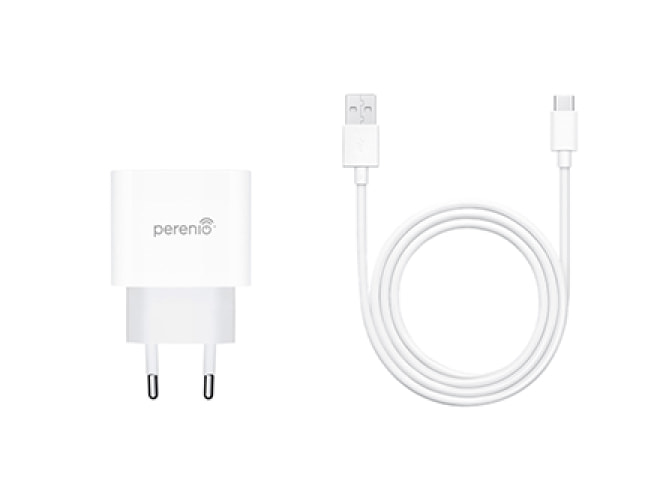 1,5m Type-C connector to power, Power adaptor 5V, 2A
Specifications
Appliance Type
Ion Diffuser
Features
Ion diffusion
LED Indication. Flashes if the device is ON
Multi-level Ionization System
Protection System
Overvoltage Protection
Maximum Operating Humidity
70 %
Minimum Operating Humidity
0 %
Maximum Non-Operating Humidity
90 %
Minimum Non-Operating Humidity
0 %
Battery Included
Yes/Not exchangeable
Battery Technology
Lithium Ion
Battery Average Run Time
6 hr
Battery Current Capacity
2600 mAh
Input Voltage
AC 100-240 V
Maximum Operating Ambient Temperature
40 °C
Minimum Operating Ambient Temperature
0 °C
Maximum Non-Operating Ambient Temperature
60 °C
Minimum Non-Operating Ambient Temperature
0 °C
Warranty Validation Criteria
Serial Number
Pack Weight Brutto (kg)
0.52 kg
Pack Weight Netto (kg)
0.44 kg
Box Weight Brutto (kg)
16.63 kg
Retail Packaging Net Weight Carton
0.081 kg
Retail Packaging Net Weight Plastic
0 kg
Description
PERENIO IONIC SHIELD™ (PEWOW01) is an ion diffuser with an exchangeable CoV capsule which contains an ionic substance. A non-invasive active medical device class I, it is intended to be used by human beings in enclosed spaces for prevention against known coronaviruses.
Protection from known coronaviruses
Ion diffuser with two stage ionization significantly reduces known coronaviruses in the air and on the surfaces in the enclosed area of use.
Safe for humans and pets
PERENIO IONIC SHIELD™ (PEWOW01) can be used 24/7. The device does not generate ozone or UV.
Take the device wherever you go
The device works for up to 6 hours on battery power. Compact size and built-in li-ion battery allow you to take the device with you anywhere. Charge the device via the power adapter with USB Type-C connector and use it all the on constant power if needed.
FAQs
Q:
Is there any intellectual property behind the solution?
A:
We have applied for 3 patents. One to patent the technology. Another is to patent the ionization. And thirdly the industrial design to prevent copies in China and other countries.
Q:
Is PERENIO IONIC SHIELD™ PEWOW01 a certified device?
A:
Yes, PEWOW01 is CE certified and registered as a medical device class I under the EU Regulation on medical devices, it has also received TUV and ROHS certification.
Q:
Is it safe for children and pets?
A:
We did not test the device on pets particularly. Pets, however, like to be next to it. Nonetheless, we do not recommend using it during the pregnancy and around toddlers.
Q:
Are there any side effects?
A:
No, there are no registered side effects besides of reported dry eyes effect for some people.
A:
No, the device does not emit ozone. Tested in a certified lab and we have a report to prove it.
Q:
Does it generate radiation?
A:
No, the device does not emit radiation. Tested in a certified lab and we have a report to prove it.
Q:
How fast does the device destroys know coronaviruses?
A:
It reduces viral load with immediate effect in close proximity to the Ion Diffuser and continues over time in an area of 2 meters when turned on. It ionizes 20 sq.m. room or space within 30 min.
Q:
What proof of working technology does the device have?
A:
PERENIO IONIC SHIELDTM PEWOW01 is a certified medical device class 1 and has the necessary obligatory certifications for EU market and UK (TUV ECD, TUV LVD, Declaration of safe operation, CE declaration, ROHs). The device has a confirmed action of suppressing the growth, infection and transmission of coronaviruses (which includes SARS-COV-2).
Q:
How long does one CoV capsule can be used effectively?
A:
The device can function up to 12 months on one capsule. To replace the capsule, turn it anticlockwise and the pull it out. Insert a new one by pushing it and turning clockwise until the ( ) brackets align.
Q:
How will I understand that I need change the capsule?
A:
It is recommended to change CoV capsule every 12 months.
Q:
Where can I buy new CoV capsule?
A:
The capsules will be available for purchase at perenio.com, online marketplaces in EU countries and offline shops from next quarter.
Q:
Can we use it in a car or other transport?
A:
Yes, you can take the device wherever you are on battery power for over 6 hours. To charge it and to have continuous work, use USB Type-C connector 5V, 2A (10 Watts) only.
Q:
Does it have protection from water/dust?
A:
The device has IP30 Protection Class. There is no specific protection from water or dust.
Q:
What guarantee and services does company provide for the devices?
A:
Warranty is 2 years. It will be serviced by Perenio Authorized Service Centers (ASC) across EU. Devices will be replaced in ASCs if any major effects occur.
Ask Question
Customer feedback:
Just bought it for my car. I work as Uber driver now and really care about air quality, especially in our pandemic times. So this is a very good decision which makes me feel more calm
I work in a kindergarten. Recently our boss brought this device, and it is really cool. I explain to children (very simplifying) how it works - and we don't fear viruses so much anymore. Like that it is tiny and stylish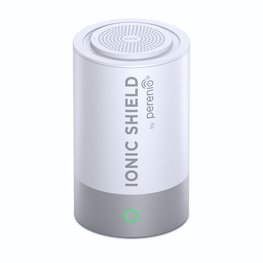 PERENIO IONIC SHIELD™ PEWOW01 Ion Diffuser with CoV Capsule
299 €
In your cart
The most helpful feedback
Just bought it for my car. I work as Uber driver now and really care about air quality, especially in our pandemic times. So this is a very good decision which makes me feel more calm
More benefits
Combine with additional devices to maximize functionality and convenience